The Resins Are Coming! The Resins Are Coming!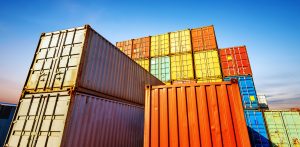 Yes, the resin export boom is on its way, but expected volumes are much less than anticipated through Q1 2017. We can blame Hurricane Harvey for plant shutdowns last September, that have limited resin production. Construction projects were also delayed, as crews worked to regroup following the storm to get plants up and running again.
From our conversations with resin producers and packagers, the first wave of significant volumes that could affect overall market capacity is slated to arrive Q3-Q4 2018, with incremental growth each month thereafter.
Where will shippers see pain points first?
Despite the cloudy outlook for resin short term, market demand for Intermodal Drayage seems to be at an all-time high already. Trucking companies are scrambling to attract and retain drivers in a tight labor market. Increases in resin exports will only tighten this supply of labor further.
Billboards for sign-on bonuses are commonplace near ports and rail terminals across Texas, as trucking providers fiercely compete for drivers. High bonuses can often be a cover for low base rates, inconsistent freight, or other factors that negatively influence driver take home pay. Attracting and retaining qualified, professional drivers continues to be an industry challenge.
During the second half of 2018, we can expect trucking capacity to tighten significantly in the Texas market. Savvy shippers are working with partners now to lock in extended terms and commitment levels before it becomes a major issue.
Shipper of Choice: More than a Buzz Word
Drivers have lots of choices in the current market. In addition to intermodal drayage, the oil field, chemical tanker, bulk sand/ gravel, and domestic van/ flatbed markets are all hot. With so much demand for highly qualified drivers, how do we all work together to make our freight supply chain the best?
To start, the script has been flipped and we must now review freight through the eyes of the driver. Shippers are competing against each other for drayage capacity. In most cases, if you operate a distribution center 20-30 mile from a port, you are competing directly with export resin within 10 miles of the port.
We are continually studying and gaining feedback on which routes, customer locations, and freight our drivers want to haul and why. This continuous feedback loop gives us data to work directly with our clients on tapping into the capacity that already exists.
Overweight Impact?
The recent Texas overweight legislation was aimed at maximizing payload and potentially taking additional trucks off the road. The market has been somewhat surprised, anticipating that on Jan 1, 2018, everyone could automatically haul 60,000 lbs. overweight containers within 30 miles of the port simply by having a permit. Of course, that is simply not the case. With the significant cost of a specialized truck, chassis, and permit combination to meet legal qualification standards, this overweight option continues to be a very slow process to a specialized market.
The reality is that there have been overweight solutions in the market for years through light weight equipment to haul up to 55,000 lbs. In most cases, the economics are simply not there yet to justify adding one extra pallet.
The market will evolve and more equipment will come into the market, but it will take years to make a significant impact. Higher ocean rates in the future could drive demand up with a stronger case for savings.
As it stands today, our export clients are much more concerned about trucking capacity, chassis availability, and container availability. In some cases, export resin shippers are considering lowering the export weights to further open the trucking capacity pool versus limiting themselves to a specific weight and equipment agreement.
Gulf Winds will continue to keep our partners up to date on the latest news, including our unique perspectives on the market.
Stay tuned. This is only the beginning!
---
For more information, contact Patrick Maher, Gulf Winds Executive Vice President | pmaher@gwii.com