The Harvey Effect: Already Strong Trucking Market is Boosted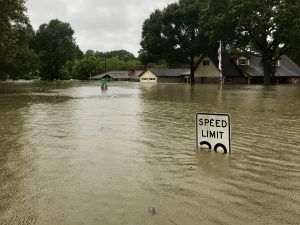 The supply chain effects of Harvey are starting to smooth out a month after the devastating storm made landfall in Texas, dumping an unprecedented 50 inches of rainfall on our region in four days. The widespread flooding from Corpus to Houston to Beaumont made the region largely impassable, with commerce coming to a total standstill.
While Gulf Winds two million square feet of warehouse space was unaffected, the families of Gulf Winds team members and owner operators were not so lucky, with dozens suffering damage to their homes and vehicles.
Peak season import volumes appear to be particularly strong this year on the heels of an already 15% increase in import loaded containers into Houston YTD 2017.  The challenges surrounding Harvey, coupled with peak season have proven to be a very busy time for Port Houston!
The most notable logistics challenges centered around available chassis in the market. Immediately after the storm, providers removed thousands of chassis for inspection;Â thereby reducing the chassis pool at the same time vessel traffic and peak season volumes were increasing dramatically. Gulf Winds has the largest fleet of chassis in the market and quickly maxes out availability at 100%. Gulf Winds also leased all available additional chassis in the market in preparation for a shortage.
Overall the port system lost a week of work. The Houston Port responded quickly by working around the clock to unload vessels, working 25 vessels in nine days. This pace was unprecedented and terminal space quickly became challenging as boxes were stacked 5-6 high on the pad, increasing the amount of time needed to retrieve a box per transaction.
Trucking capacity, chassis unavailability, further demand for experienced drivers, and the increased need for Port warehouse space will only continue to be magnified as resin producers begin to come online in the 4th quarter. Manufacturing facilities, who were largely shut down during the storm for safety reasons, are now back online. and the South Texas cotton crop is starting to move this month.
The continued need for cost-effective solutions will only accelerate in the marketplace. Gulf Winds is committed to creating solutions through technology, investment in people, and keeping our customers informed. Let's proactively discuss opportunities and work together to ensure your supply chain service expectations are met.
For more information, or to further discuss your needs, contact pricing@gwii.com