Gulf Winds Named a Smartway High Performer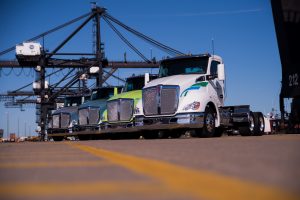 Gulf Winds has been named a U.S. Environmental Protection Agency (EPA) SmartWay® High Performer. Each year performance data is submitted and reviewed to qualify as a SmartWay partner. Among the hundreds of companies partnering with EPA through SmartWay, there are those that are a step ahead in meeting the challenges of sustainable goods movement. These leaders represent all types of SmartWay Partners, including shippers, truck carriers and logistics service providers.
Based on SmartWay's annual emissions reports, High Performers are recognized for achieving significant shipping and freight efficiencies that merit special attention.
"We are thankful to celebrate a 12-year partnership with Smartway. For 12 years, our partnership has worked to improve air quality in our local community, while also supporting our overall company's mission, vision, and values." – Todd Stewart, President, Gulf Winds
SmartWay is a voluntary and cost-free program that supports companies' initiatives to reduce greenhouse gas emissions from freight supply chain transportation activities. Operational strategies, data management tools and verified technology supports are provided. The SmartWay Partnership is a domestic and international freight and supply chain program that manages data for over 3500 partners across all domestic shipping modes in the US and Canada. SmartWay implements its goals to lower freight carbon footprints by conducting analysis and research of freight impacts, engaging with freight experts, anticipating and responding to trends, developing strategic resources and communication strategies, and serving as an international model. International collaborations exist with Mexico, China, and other Asian nations, Europe, and Latin America.
"Gulf Winds International, Inc. knows that partnering with SmartWay is good for business, people and the environment," says Cheryl Bynum, U.S. EPA's SmartWay Director, "By partnering with us, Gulf Winds International, is demonstrating their commitment to sustainability through cleaner, lower carbon goods movement."
Learn more about the EPA's SmartWay program at https://www.epa.gov/smartway/