GWI Raises $250,000 for ICM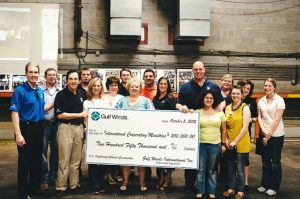 In January of 2012, Todd Stewart, BJ Tarver, and Steve Stewart from Gulf Winds International, along with representatives from International Cooperating Ministries (ICM), traveled to Colombia, South America to visit several communities in dire need of hope and resources. During the trip they visited several orphanages and heard message after message of faith, hope, and God's love but one message was clear, there were numerous homeless children in Colombia and they desperately needed help.
Upon their return from Colombia, BJ and Todd shared their stories and experiences with the team at Gulf Winds and instantly won the hearts of many within the company. Under the guidance and direction of BJ, Gulf Winds employees embraced the opportunity to raise money in efforts to build an orphanage in Colombia that would house over fifty children. With overwhelming efforts, selfless giving of resources and time, and awe-inspiring dedication, the employees of Gulf Winds as well as dollar for dollar matching from Gulf Winds raised $250,000. Not only will the money be used to build the one orphanage for over fifty children, but the funds raised are enough to build multiple orphanages and churches in Colombia. The orphanages will be a safe haven equipped with food, education, hope, and love for numerous children for countless years to come.
This amazing feat would not have been possible without every individual who participated and gave both time and/or money. On October 5th, 2012 a luncheon was hosted by Gulf Winds to celebrate the accomplishment of the team and present ICM with a check for $250,000. The following team members were recognized at the luncheon for their outstanding efforts as top fundraisers this year:
Top Fundraisers – Employees
Lorinda Draper
Troy Jones
Jessican Rattani
Top Fundraisers – Managers
Kevin Griffin
Stacey Adams
Candace Harris
Remaining Top 10 Fundraisers
Summer Reeves
Angie Killion
Dee Anne Thomson
Jan Rydlund
Lindsey Durio
Meagan Bell
Patrick Maher
Lorinda Draper was presented the top fundraiser award and will be joined by raffle winners Heather Overby and Veronica Pous on a once in a lifetime trip to Medellin, Colombia to visit the orphanages and churches the Gulf Winds team funded.
ICM Luncheon – October 5, 2012
PRESENTATION OF AWARDS & FUNDS RAISED FOR ICM
Seen below is a group of Gulf Winds Top Fundraisers as well as Gulf Winds Executives presenting a check to representatives from International Cooperating Ministries (ICM) in the amount of $250,000. The money raised this year by Gulf Winds employees will go towards building orphanages and churches in Colombia, South America..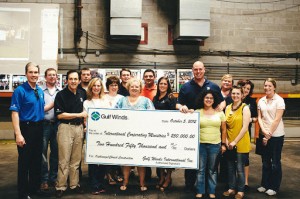 Mike Roth, National Director of Development, for International Cooperating Ministries (ICM).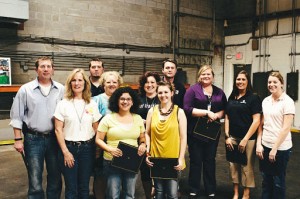 Back Row Left to Right: Kevin Griffin, Top Fundraiser – Manager, Troy Jones, and Patrick Maher Middle Row Left To Right: Lorinda Draper, Top Fundraiser – Team Member, Angie Killion, Jessica Rattani, Veronica Pous, Meagan Bell, Candace Harris, and Lindsey Durio Front Row Left to Right: Jessican Rattani and Summer Reeves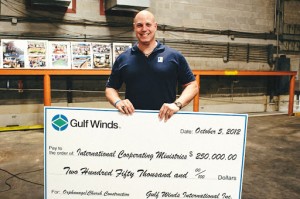 Below is the group of Gulf Winds employees who were top individual fundraisers for the 2012 charity.