Driving awareness about the fight against modern-day slavery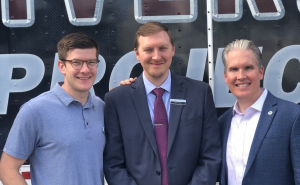 Gulf Winds & More Than the Move Foundation partner with key organizations to address human trafficking
Gulf Winds and More Than the Move Foundation started the year right by partnering with Truckers Against Trafficking (TAT), Elijah Rising, Oil and Gas Trafficking Advocacy Group, and Port Houston to bring The Freedom Drivers Project to Houston the week of January 6, 2020.
Truckers Against Trafficking (TAT) exists to educate, equip, empower and mobilize members of the trucking, bus, and energy industries to combat human trafficking. TAT is raising up a mobile army of transportation professionals to assist law enforcement in the recognition and reporting of human trafficking, in order to aid in the recovery of victims and the arrest of their perpetrators. 
The Freedom Drivers Project (FDP) is a first-of-its-kind mobile exhibit that is a premiere tool in educating members of the trucking industry, and the general public, about the realities of domestic sex trafficking and how the trucking industry is combating it. From its outside wrap to the climate-controlled interior, which includes a theatre station, actual artifacts from trafficking cases that connect people to the backstories of so many who end up enslaved in our country, to portraits of the real Truckers Against Trafficking and how each is working to end human trafficking, this trailer provides many with their first glimpse into human trafficking, as well as simple action steps anyone can take immediately walking out of it.
Thank you to TAT, Elijah Rising, More Than the Move Foundation, and Gulf Winds International for educating the community at Port Houston on this important issue. This great work could not be done without corporate support and community leaders stepping up to address this challenge.