WANTED: Wheels!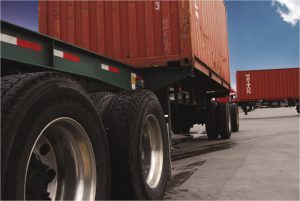 A continual struggle for all parties in the intermodal drayage market is chassis availability. During surge periods, seasonal pushes, weather events, and overall increase in volumes nationwide, chassis availability is often pushed to the limits in both port and inland rail terminals across the country. We recently sat down with BJ Tarver, Chairman of the TXTA Intermodal Committee and Gulf Winds COO, to gain his insight into the chassis dilemma.
1. How do we move from the current chassis model put in place decades ago, to a standardized, sustainable approach to chassis supply?
BJ: The current model in place today will be around for the foreseeable future. This model consists of Intermodal Equipment Providers (IEPs) providing chassis to steamship lines, shippers, and trucking companies through lease agreements. Shippers or BCOs will also continue to look to trucking companies and IEPs to come up with dedicated chassis solutions that meet their specific requirements and needs. Finally, trucking companies will continue to invest in equipment themselves to meet the needs of their customers and just as importantly, the drivers. It is certainly not a "one size fits all" approach as the individual needs of shipper, trucking company, and driver must all be considered to execute properly.
2. What steps need to be taken and by whom?
BJ: Many of the steps required have been completed already and we have seen tremendous improvement in many areas, especially in the last few years. We are seeing an expansion in chassis service offers, refurbishing of equipment and injection of new equipment in some cases. While all of this is encouraging, we are still miles from where we ultimately need to be as an industry.
The conversation must shift to making the current model(s) as efficient as possible. How do we work together to maximize & eliminate bottlenecks in the system? How do we create additional choices for trucking companies? At inland rail terminals, like Dallas/ Fort Worth, how do we move towards a Grey Pool?
It is our job as an intermodal industry to collectively work to educate the shipping community of the benefits of more efficient chassis models. At the end of the day, there is capacity to be gained and cost savings to be had in the supply chain.
3. Should the U.S. intermodal industry adopt the chassis model used everywhere else in the world?
BJ: While it's possible, it is not something we see happening or even necessary. We see each group currently involved, specifically steamship lines, IEP's & trucking companies all playing a critical role in providing a much-needed service to the industry. Gulf Winds currently has over 1000 chassis with plans to continue to investment in equipment to meet the needs of our drivers & customers. Other draymen also have this model and will continue to invest in chassis to control cost, increase quality, capacity while also meeting the unique needs of the customer and driver.
To learn more, download our Total Chassis Solutions document here.
[download id="5549″]
---
Please contact us today to discuss a chassis solution for you at pricing@gwii.com or call 866-238-4909.