New All Water Service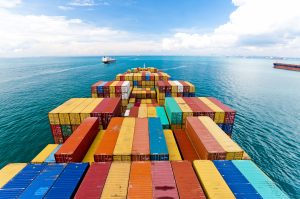 Linking Houston to Asia in the Global Supply Chain
The 2M Alliance of Maersk Line & Mediterranean Shipping Co. is launching a Panama Canal service from Asia that will call at Houston 3 times per week!
The much awaited Panama Canal expansion is set to be unveiled on June 26, but the new 2M Alliance is starting their service earlier. With capacities of about 4,500 TEUs, the service's ships will fit through the canal's older locks.
The new 2M service from Asia will call Houston three times per week. Over the last several years, Northeast Asia has become Houston's largest import market, surpassing North Europe.
The Port has been working to deepen the channels at Barbours Cut and Bayport Terminals to 45 feet.
Four new super-post-Panamax cranes have been installed, with three more coming soon.
Barbours Cut is undergoing end-to end rebuilding to handle larger volume and bigger vessels. Bayport Terminal continues to be built out.
Once all the work is done, the Port of Houston expects to have capacity to handle about 5 million TEUs per year!