2013 – GWI takes the BP MS150 Challenge
It seems as though Gulf Winds is starting a new tradition! Yet again, The Gulf Winds Cyclers have signed up and have begun preparing for the BP MS150 coming up April 20-21 2013. The riders this year are very excited, not only to ride, but also because of the great donations we have been receiving from around the world!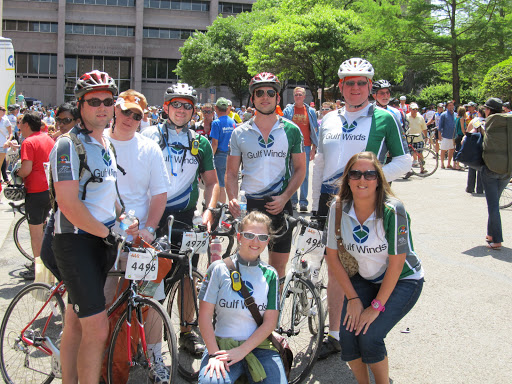 The Gulf Winds Cyclers at lasts years MS150
This year, Gulf Winds has decided to put out a sponsorship campaign to help our riders raise money for this great cause. Our potential sponsors have the choice of a Silver, Gold or Platinum level donation. Each of these levels are unique. Silver Level supporters donate $50 dollars and receive a Gulf Winds – MS150 T-Shirt. Gold level supporters donate $100 and receive the T-shirt along with their logo placed on this page of our website. Lastly, Platinum level supporters receive the same T-shirt, their logo on this page of our website along with their logo on our riders jerseys.
The MS150 is an amazing opportunity to raise money and awareness and we are proud to be a part of it.
About The National MS Society
The National MS Society is a collective of passionate individuals who want to do something about MS now—to move together toward a world free of multiple sclerosis. MS stops people from moving. We exist to make sure it doesn't.
We help each person address the challenges of living with MS through our 50-state network of chapters. The Society helps people affected by MS by funding cutting-edge research, driving change through advocacy, facilitating professional education, and providing programs and services that help people with MS and their families move their lives forward.
Meet the GWI Team Members
Team Captains
Candace Harris, Natalie Gardner, Summer Reeves
Team Riders
Ben Sherrill, BJ Tarver, Gabriel Allen, Jennifer Burcham, Joe West and Rene Lara
Our Sponsors