US Gulf Coast ports get big-ship ready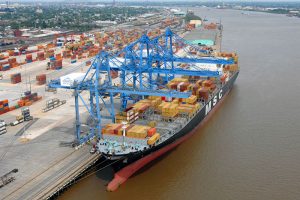 Anticipating a post-pandemic return to growth, US Gulf Coast ports are pursuing major capacity expansions in 2021, positioning themselves to better handle vessels well above the 10,000 TEU size most common in services calling the region.
Port Houston approved 2021 budget outlines $239 million in new capital spending. Top projects include a new deepwater container berth at Bayport marine terminal and a new crane fleet able to handle 18,000-TEU vessels. At Barbours Cut terminal, the authority will restore four container yards and 2,700 linear feet of berth space, equipping the terminal to handle ships up to 10,000 TEU. Both projects are slated for completion by 2023. A $42 million upgrade to the truck gates at Barbours Cut is expected to be ready by spring 2021. The plans of the port authority align with a decade-long project to widen and deepen the Houston Ship Channel, so that larger container ships can cross paths safely. This project was bolstered in December 2020 when Congress approved $625.2 million in funding for the US Army Corps of Engineers to widen 11 miles of the 25-mile stretch.
At the Port of New Orleans, dredging has begun to deepen the lower reaches of the Mississippi River to 50 feet in anticipation of up to 14,000-TEU vessels. To handle the larger vessels, the port will also proceed with a $100 million expansion of its Napoleon Container Terminal. At the Port of Mobile, a roughly $400 million deepening project is underway, allowing the port to raise its 9,000-TEU limit on vessel sizes up to 14,000 TEU. At Tampa Bay, terminal operator Ports America plans to add capacity through new truck gates and additional gantry cranes, doubling its current 300,000-TEU capacity within the next two years and increasing to 1 million TEU within five years.