TPM Takeaway: Shippers Turn to Transloading for Demand-Based Fulfillment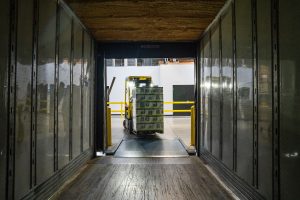 As the US import surge continues to create a capacity crunch, transloading terminals near ports are filling up. That's forcing more container transloading activity further inland, increasing transportation costs, and diminishing the advantages of transferring goods from 40-foot ocean containers to 53-foot trailers or intermodal containers. Despite this, transloading is increasingly attractive to shippers due to larger supply chain issues and inventory management considerations, speakers at JOC's virtual TPM21 conference said in early March.
Importers are finding that transloading gives them more flexibility and the ability to respond to more immediate consumer demand. Whereas traditionally a given container's destination is set before it leaves Asia — and is then channeled through a US port to an inland distribution center — transloading allows importers to respond more nimbly to current demand, particularly that of e-commerce. "As more companies operate in an omnichannel environment, transload allows for a demand-based allocation of product into that environment, whether going to stores or fulfillment centers," Dan L. Gardner, president of Los Angeles-based consulting firm Trade Facilitators, said at TPM21.
Although Southern California is the current hot zone for transloading, due to port congestion from Trans-Pac trade, demand is swiftly growing elsewhere. National intermodal drayage provider RoadOne IntermodaLogistics is building a large transloading network on the East and Gulf Coasts through acquisitions. In an interview with JOC.com prior to TPM21, RoadOne CEO Ken Kellaway forecasted that transload will be "the preferred way to bring in full containers" into the US, as importers need to distribute more inventory to diverse locations to meet next-day and same-day delivery expectations.