TPM Takeaway: Dedicated Trucking on the Rise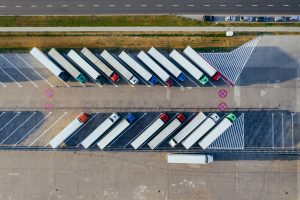 Trucking and logistics companies are experiencing a boom in dedicated trucking, as shippers look to these services to help them reshape the supply chain. For example, Agway Farm & Home has offered their Agway and Southern State retails stores free delivery to locations that order a certain minimum quantity, said Holly Pearce, the company's director of logistics and fulfillment, at TPM21, held online Feb. 28 – March 3. Incentivizing customers to order larger shipments less often results in a reduction of more frequent, costly less-than-truckload shipments, Pearce said. Agway then offsets the expense of a dedicated fleet by implementing a revenue-sharing arrangement for inbound backhauls with a third-party logistics provider (3PL).
Third-party logistics providers have not always been considered for dedicated services, but over the past decade, technical advances such as supply chain visibility and tracking and tracing systems have made it possible for 3PLs including GlobalTranz to draw assets from tens of thousands of carriers and create dedicated networks. Although most dedicated trucking contracts are for agreements running three to five years, there is increasing opportunity for shorter-term "pop-up" fleets, said Brian Nessel, a senior vice president of carrier relations and capacity at 3PL GlobalTranz.
Fourth-quarter dedicated revenues indicate the uptick in demand for these services. Omaha, Nebraska-based Werner enterprises showed an increase of 9 percent to $258 million, enlarging its dedicated fleet by 230 trucks and removing 110 trucks from its traditional one-way irregular-route truckload fleet. At Marten Transport, a refrigerated truckload carrier in Mondovi, Wisconsin, dedicated revenue was up 21 percent to nearly $275 million during this period, according to an earnings report. The dedicated division of J.B. Hunt Transport added 192 trucks to its fleet in the fourth quarter, to fulfill current demand and prepare for expected additional demand in 2021.