DELIVERING PIECE OF MIND FOR ALL OF YOUR TRANSPORTATION NEEDS
As one of the largest out bound shippers in our region, Gulf Winds has the buying power to keep your transportation costs down while also ensuring capacity. In addition to our own fleet, Gulf Winds has partnered with over 1,000 of best-in-class carriers and private fleets to provide our clients with turnkey supply chain solutions. Our continued success is based on reliable service, client specific solutions, and proactive communication.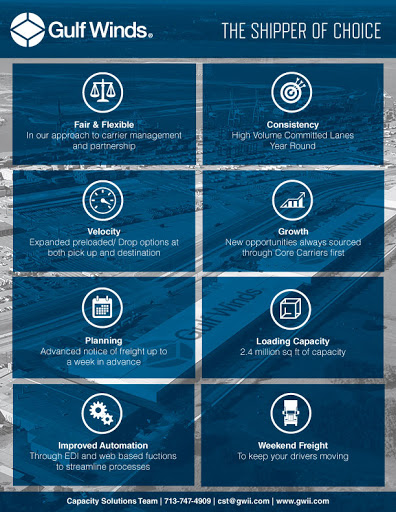 Reliable Service. The diverse network of carriers provides transportation services throughout the US to and from the South-Central region. Partner carriers are thoroughly vetted for safety, security, and professionalism. Partner carriers offer the service, values, and responsiveness our clients have grown to expect from Gulf Winds.
Client-specific Capacity Solutions. Gulf Winds provides flexible capacity, can accommodate seasonal fluctuations and high volume projects. Gulf Winds works with each client to ensure that their specific needs are met.
Systems Visibility. Using the latest transportation software and on-line tools Gulf Winds provides real time visibility to all shipments through our website. No matter if you are moving containers in Kansas City or Truckloads in Tulsa, Gulf Winds has your shipments tracked.
Single Sourced Logistics. One call to Gulf Winds will ensure your transportation needs are met. Our team of logistics experts will work to deliver competitive rates and best in class service with one phone call.
PERMITS
FHWA Freight Broker # MC 320104-B