International Cooperating Ministries
Why International Cooperating Ministries?
Return on Investment | 100% of all funds raised go towards the Church/Church Orphanage project.
Matching Contributions | 33% cornerstone matching on every dollar given.
Multiplication Factor | Each Church/Orphanage planted covenants to plant 5 more daughter congregations within 3 years.
Indigenous Ownership | The indigenous people are responsible for the labor and ongoing local outreach.
Proven History | From 1 church in 1 location to over 4000 in over 60 countries in 25 years.
Ongoing Discipleship | Application based Bible study tools provided in native languages. Visit www.minibiblecollege.org
Changing Nations | Nations being transformed by the Gospel of Jesus Christ. Visit www.icm.org
2013
For 2013 Gulf Winds partnered with
International Cooperating Ministries (ICM)
to go on an amazing journey to El Salvador to witness Gods work as done through the hands and hearts of ICM and the miracles that are happening each and every day all over the world. Amazing churches have been built, testimonies given and the word and love of God was seen in everyone. All of this is because of the faith and devotion of this ministry. We hope you take a look at this video to see just a glimpse of the amazing work that has been done.
2012
For 2012 Gulf Winds will be partnering once again with
International Cooperating Ministries (ICM)
to build an orphanage for over 50 children in Colombia, South America. This year, we had several people from our company visit communities in need. See
photos
from their trip.
ICM Luncheon
PRESENTATION OF AWARDS & FUNDS RAISED FOR ICM
Seen below is a group of Gulf Winds Top Fundraisers as well as Gulf Winds Executives presenting a check to representatives from International Cooperating Ministries (ICM) in the amount of $250,000. The money raised this year by Gulf Winds employees will go towards building orphanages and churches in Colombia, South America.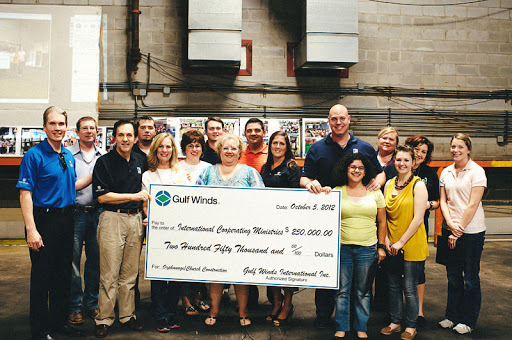 Mike Roth, National Director of Development, for International Cooperating Ministries (ICM).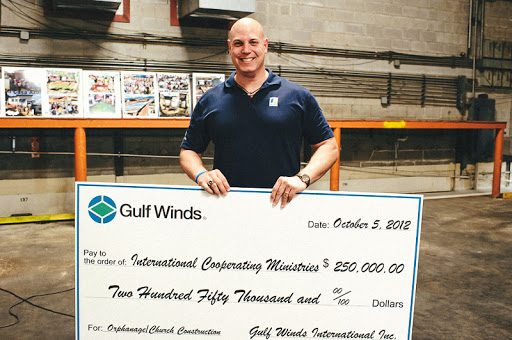 Below is the group of Gulf Winds employees who were top individual fundraisers for the 2012 charity.
Back Row Left to Right: Kevin Griffin, Top Fundraiser – Manager, Troy Jones, and Patrick Maher Middle Row Left To Right: Lorinda Draper, Top Fundraiser – Team Member, Angie Killion, Jessica Rattani, Veronica Pous, Meagan Bell, Candace Harris, and Lindsey Durio Front Row Left to Right: Jessican Rattani and Summer Reeves
2010
Church built in Colombia by GWI and ICM
Church in Mexico built by GWI and ICM