OILFIELD SUPPLY CHAIN SOLUTIONS
Gulf Winds specializes in the logistics management of imported oil field products, ceramic proppants and guar gum. From port to the field, we develop tailored supply chain solutions specific to our client's needs, providing reduced transit times and maximizing opportunities to reduce costs.
HOUSTON: THE GATEWAY TO THE NORTH AMERICAN SHALE PLAYS
The Port of Houston is ideally positioned geographically to support the emerging Eagle Ford, Bakken, Haynesville, and Permian shales.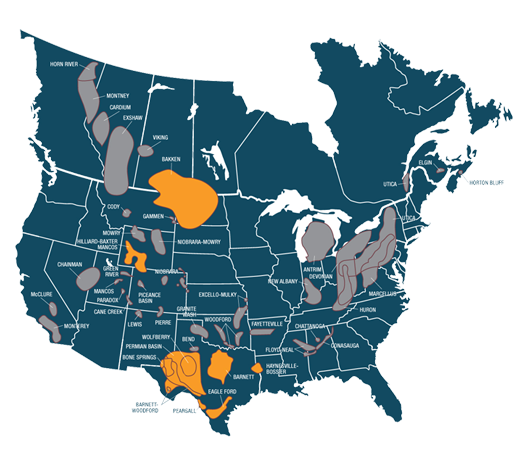 WAREHOUSING / DISTRIBUTION CENTERS
Gulf Winds is the largest warehouse and transportation firm in the Gulf Region operating over 2 million square feet of warehouse space strategically located at both the Barbours Cut and Bayport terminals.
TRANSLOADING SERVICES
Gulf Winds offers transloading services to truck, boxcar, bulk pneumatic, and hopper car for distribution throughout North America. We are served by both the BNSF and UP railroads for added flexibility to our customers.
DOMESTIC DISTRIBUTION SOLUTIONS
As the highest volume Houston shipper to the North American shale plays Gulf Winds understands the demands and expectations of servicing the oil field sector. We offer strategic capacity solutions through our network of carriers tailored to meet your needs. Year round Railcar and Truckload Capacity: Houston is supported by a strong inbound market for both truck and boxcar to support the oil and gas industry year-round reducing costly delays in the supply chain.
TRUCKING SOLUTIONS: OILFIELD FLATBEDS
Gulf Winds has spent years building the most comprehensive carrier network around, so that together, we can solve your oilfield trucking needs. When you need oilfield flatbeds to ship ceramic proppants and guar gum through your supply chain, Gulf Winds will deliver a trusted carrier at the biggest savings to you. Please visit our Trucking Brokerage page, or Transload Calculator to learn more about your options.
BULK LOADING
Gulf Winds has invested in specialized equipment for the handling of aggregates including sands, guar gum and proppants. Using a custom high-capacity portable high-incline conveyor system, Gulf Winds is able to transload product moving in supersacks into pneumatic trucks and/or hopper cars for distribution to well sites in our region and around the country.
Integrated scales measure each bag as it is loaded into the pneumatic hopper to ensure accurate product distribution weight totals.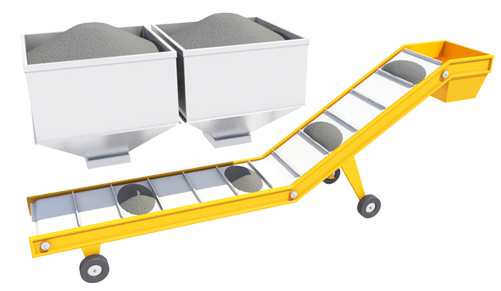 Custom-Engineered Handling System - Portable high-incline conveyor system with integrated scales.
Benefits
By weighing the product in this way, we can notify the customer of weight variances which is a common issue for customers on manufactures not shipping full amount of product, allowing them to go back to their shipper for discounts.
Load out Capabilities: 185k lbs. per Hour Quick Turn Times/ High Capacity